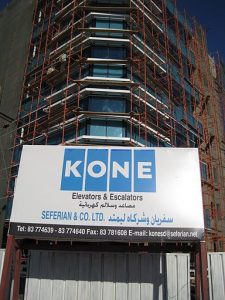 KONE is a global leader in providing innovative and eco-efficient solutions for elevators, escalators and automatic building doors. KONE support customers every step of the way; from design, manufacturing and installation to maintenance and modernization.
Seferian & Co are the Sole Agents for the territory of The Sudan and are dedicated in offering first class supply, installation services and spare parts.
Maintenance contracts are managed by a team of experienced technicians who are responsible in cleaning, inspecting, lubricating, indicator/bulb replacements and adjusting of parts/components to ensure the correct running and safety of your lift installation. Any defects found on inspection visits are detailed in a full report in order to prevent unnecessary failures and future lift breakdowns.